The eagle-eyed among you may notice two things:
I haven't done one of these posts in a month, and
The list now goes from Friday to Thursday, instead of Saturday to Friday.
I have decided to bring the post day forward so that everyone's ready for the weekend – and so that I'm not lovingly handcrafting these posts when I should be loafing about being fed peeled grapes by my army of sex slaves (I'm allowed to dream). This also neatly ties in with why I haven't written one in a month: I'm usually very busy on a Saturday.
Without further ado, then, let's take a look at this past week's new releases to see if there's something out there for you!
M/F
Through the Eyepiece (Part 1)
Author: Charlotte J Forrest
Link: Amazon
Length: 7,539
Genre: BDSM Erotica
Genders: M/F
Blurb: "Cristina's back. Happily set to move into the cosy little Heatherwood Manor. Though Cristina's thoughts are more on the large secluded garden and the kinky fun to be had therein. Nothing can possibly spoil her fun… Apart from that telescope dome on the opposite hill."
Kinks: Outdoor sex, Bondage, Breast caning, Blowjob.
The Horny Mermaid: The Complete Tail
Author: Molly Grym
Link: Amazon
Length: 17,600 words
Genre: Fairy Tale Parody Erotica
Genders: M/F
Blurb: The classic tail with an erotic twist! All three parts bundled together for one low price! Annabel is a teenage mermaid with a longing desire to make love to a human man. She makes a deal with Kol, a renegade sea sorcerer, to give her legs. She has three days to experience orgasmic pleasure with a human man that loves her — or become Kol's sex slave for all eternity!
Kinks: mermaids, virgins, fairy tale fantasy, body swap
House Arrest
Author: Cora Hart
Links: Amazon, B&N, SmashWords
Length: 5,600
Genre: BBW, BDSM
Genders: M/F
Blurb: Cassie thinks her sexy adventure with Officer Scott West was a one time thing. She couldn't be more wrong.
When he shows up at her house, he has much more in store. He uses every weapon in his arsenal to make Cassie understand that he has all the power, and he is going to take what he wants.
Kinks: Police Erotica, BDSM, Rough Sex
Billionaire's Breeding Slave
Author: Lisa Winters
Links: Amazon, Smashwords
Length: 16,000 word
Genre: Impregnation Erotica
Genders: M/F
Blurb: A mysterious mansion, run by a nameless company, that caters to rich older men with very specific desires– impregnating young, beautiful women! This collection features three hot stories of lust, submission, and impregnation!
Kinks: Impregnation, Breeding, Billionaire
Cuckold: His Punishment (Hotwife Dominates Husband)
Author: Harley Baker
Link: Amazon
Length: 5,000 Genre: Dark Erotica
Genders: F/m
Blurb: My sexy wife warned me that if I failed again to get a promotion, then she was going to force me to watch her hookup with my rich, well-endowed brother. Since I live my life to serve her, it really turns me on to watch her receive so much pleasure. Will this time feel any different than the others?
Kinks: Dominate female, submissive male, cuckold, hotwife
Submitting to the Slave
Author: Claire Elise
Links: Amazon
Length: 6500
Genre: Erotica, Historical Fantasy
Genders: MF
Blurb: Elizabeth is supposed to marry Thomas within the month. The only problem is that she hates him, and he hates her. As Elizabeth is left unsatisfied, her thoughts begin to wander and her eyes search for a new man… A strong, hard-working, respectful man. That man only happens to be the field hand, Toby, one of Master Thomas' yard slaves on the estate. When Elizabeth and Thomas get into another fight at a neighboring plantation's seasonal ball, Thomas forbids Elizabeth from entering their home and forces her to sleep in the barn
Only, Elizabeth finds she isn't the only one sleeping in the hay…
Kinks: Interracial, Slave, Dom & Sub, Slutwife, Hotwife
Making Michael Obey
Author: K.C. Cave
Links: Smashwords, Amazon
Length: 12,000
Genre: erotica
Genders:M/F
Blurb: This 5-story collection features mega-teaser Junie and her boyfriend Michael. She makes life miserable for him—seducing, spanking, licking and tormenting him all over the house just because he wants to loll her around on their new bed. Over a week, Junie lures Michael to the powder room (making him watch her pee before reducing him to a gibbering wreck), the guest room (tying him up, spanking and tormenting his naked butt), the dining room (drizzling chocolate on her breasts and making him lick her clean), the kitchen (jilling-off in front of him), and finally the bedroom (waking him in the middle of the night for a blow job he'll never forget).
Kinks: mild pee play, anal sex, masturbation, food desecration, light BDSM, male humiliation
M/M
Incubus' Temptation
Author: Scarlet Cox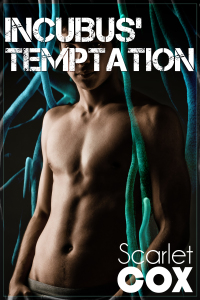 Links: Amazon, All Romance eBooks, Barnes & Noble, Kobo, Google Play, Smashwords
Length: 4,000
Genre: Gay
Genders: M/M
Blurb: Father Garrett Leary preaches one thing, but secretly yearns for another. He aches for the touch of a man: the church's clerk, Tyler.
Garrett can't suppress his desire forever, but he will need help if he's to admit to his feelings before he loses Tyler for good.
But does he want the help of an Incubus? A demon? Or is it better to just deny his heart and remain pure?
Kinks: Tentacles, Demon, Bondage, Gay first time
Hungry For Him Boxed Set (Gay MM Erotic Romance)
Author: J.D. Hardwick
Link/s: Amazon
Length: 13,600
Genre: gay M/M
Genders: M/M
Blurb: A trio of stories featuring red-hot relationships between experienced older men and the young studs who want to learn from them. Open wide and get it while it's hot! This boxed set contains: Jake and the Neighbor; Gay For My Teacher; Wanting Something More.
Length: 13,600 words.
Kinks: Gay first time, teacher-student sex, older man-younger man
Ménage / Multiples / Other
A Tale of Ladies and Beasts: Three Taboo Tales
Author: Selena Storm
Link: Amazon
Length: 17,000
Genre: monster erotica
Genders: m/f + mm/f
Blurb: Bundled together are the first three books in the A TALE OF LADIES AND BEASTS series from Selena Storm. Three young maidens long to find their place in the world, but what they find are monsters that want nothing more than to steal their innocence!
Kinks: monsters, kidnapping, virgins, paranormal
Thrice As Nice
Author: Ingrid Ash
Link/s: Thrice As nice
Length: 5800
Genre: interracial cuckold menage
Genders: mfm
Blurb: Gina's relationship with her husband Clarence is just one problem after another. When they're not arguing about money issues, they're passive aggressive about their lack of passion in the bedroom. To spice things up, she comes up with a plan — they each get to choose their #1 kink, and the other can't refuse to perform it. But what Gina didn't know is that her husband likes to watch…watch her get taken by two ripped white men at the same time, that is! And these guys have brought a few whips and restraints of their own…
Kinks: cuckold, menage, bdsm, dp
Naughty Nymphs: Naiad's Need
Author: Margeaux Adler
Link/s: Amazon, Barnes & Noble
Length: 6,700
Genre: Paranormal Group/Gangbang Erotica
Genders: Multiple
Blurb: Lara's day is not off to a good start when she, a naiad, senses something is wrong with the streams and lake on her property. Then five gorgeous men wander onto her land and she suspects they can give her just what she needs to turn her day around. But can she get all five of them to take and "worship" her?
Kinks: oral sex, anal sex, rough sex, group sex/gangbang
Silken Secrets
Author: Nora Nix
Links: Amazon, Barnes & Noble, Smashwords, All Romance eBooks
Length: 5390
Genre: Erotica
Genders: MMMMF
Blurb: Corey would do anything for his wife. When he finds out that she needs more than he can provide, he begrudgingly allows her to indulge in her cravings for big, well-endowed black men. Except Diana's fantasies don't stop there, and soon quiet, submissive Corey finds himself in pigtails and pantyhose at the mercy of not just his dominating wife, but her ebony lovers, as well.
Kinks: Cuckold, Sissy, Interracial, Gangbang, Forced Feminization, Pegging, Anal sex
Dirty Pool
Author: Nora Nix
Links: Amazon, Barnes & Noble, Smashwords, All Romance eBooks
Length: 5240
Genre: Erotica
Genders: MMMMF
Blurb: Brian's wife, Madison, is both incredibly hot and competitive. During a game of pool at a local bar, she bets him that she'll win the next game – and if she does, she's taking three big black men home. Not only that, but Brian will have to watch as they fill up her every hole! Can he beat her at her own game? Or will he lose this round of dirty pool?
Kinks: Cuckold, Hotwife, Interracial, Gangbang, Double penetration, Anal sex
My Wife, the Escort
Author: Nora Nix
Links: Amazon, Barnes & Noble, Smashwords, All Romance eBooks
Length: 5800
Genre: Erotica
Genders: MFM, MM
Blurb: Amy and David are having marital problems. Amy's libido has become insatiable, and David just can't seem to keep up. When he finds out through his best friend, Nicholas, that his wife has signed up for an escort site, David hatches a plan to catch his wife in the act. Will seeing her with another man give him the strength to leave her? Or will her extra-marital tryst bring them closer together?
Kinks: Cuckold, Interracial, Anal sex, Light M/M, Slutwife, Double Penetration
Sweet Treats, Vol. 4: Candy-Coated Cuckolds
Author: Nora Nix
Links: Amazon, Barnes & Noble, Smashwords, All Romance eBooks
Length: 16280
Genre: Erotica
Genders: MFM, MM, MMMMF
Blurb: This collection includes the cuckold-themed stories "Silken Secrets," "Dirty Pool," and "My Wife, the Escort." These three tales are so sweet and steamy that you won't want to share!
Kinks: Cuckold, Interracial, Anal sex, Light M/M, Slutwife, Double Penetration, Hotwife, Threesome, Gangbang, Sissy, Forced Feminization
Love, Lust & Fantasy
Author: J.M Starr
Links: Amazon
Length: 50,000
Genre: Erotica
Genders: mf, mmf, mff
Blurb: Experience a couples desires across a selection of ten short stories. Enjoy tales inspired by the love each has for the other including kinks and fantasies they both share. Separated by distance and time, they have been prevented from being together, but nothing can stop their hearts and desires. It is forbidden love fuelled by desire manifested in the written word. Stories include seducing the daughters best friend, a romantic holiday to Venice with kinky and wild sex and performing acts for money amongst many more.
Kinks: Age Play, Pregnancy, Threesome, Voyeurism, Domination, Anal, Double Penetration, Light Bondage and more.
Eliza's Masters
Author: A. L. Haddix
Links: Amazon
Length: 2,485 Words
Genre: Erotica
Genders: M/M/M/F
Blurb: Eliza's ready to make her fantasy of submission to three men at once a reality. She'll discover just how fulfilling having multiple partners can be once she bares herself to three.
Kinks: Foursome, Oral, Anal
The Devil You Know II
Author: Nora Nix
Links: Amazon, Barnes & Noble, Smashwords, All Romance eBooks
Length: 5060
Genre: Erotica
Genders: MM, MF
Blurb: After Rory's strange and sudden disappearance, Zach, his best friend, decides to solve the case himself. When he breaks into Delia Sanderson's sorority house looking for clues, he stumbles upon their secret – they're all part of a coven of witches! Worse yet, they've just summoned an incubus that seems far more interested in him than he is in them. Will Zach escape? Or will he suffer Rory's fate?
Kinks: Gender transformation, Monster erotica, Anal sex, Mind control, Dubcon, Gay-straight first time